What To Expect As A New Client Of Back Office Stars – Our Onboarding Guide
If you are a new client or thinking of becoming one, then this onboarding guide will help set your expectations about the steps involved.
The key to enabling virtual or online or cloud-based bookkeeping is the ability to exchange and organize documents via the internet in a secure and efficient manner. Cloud accounting systems like Xero and QuickBooks Online have a fair bit of functionality for this but we have found the best solution is to use Dext in addition to one of Xero or QuickBooks Online. In the rest of this guide, we'll refer to Xero but you can assume that Xero and QuickBooks Online are interchangeable.
The most basic setup (in which we don't handle your payroll or your payables) looks like this.

The two key software systems are Dext and one of Xero or QuickBooks Online.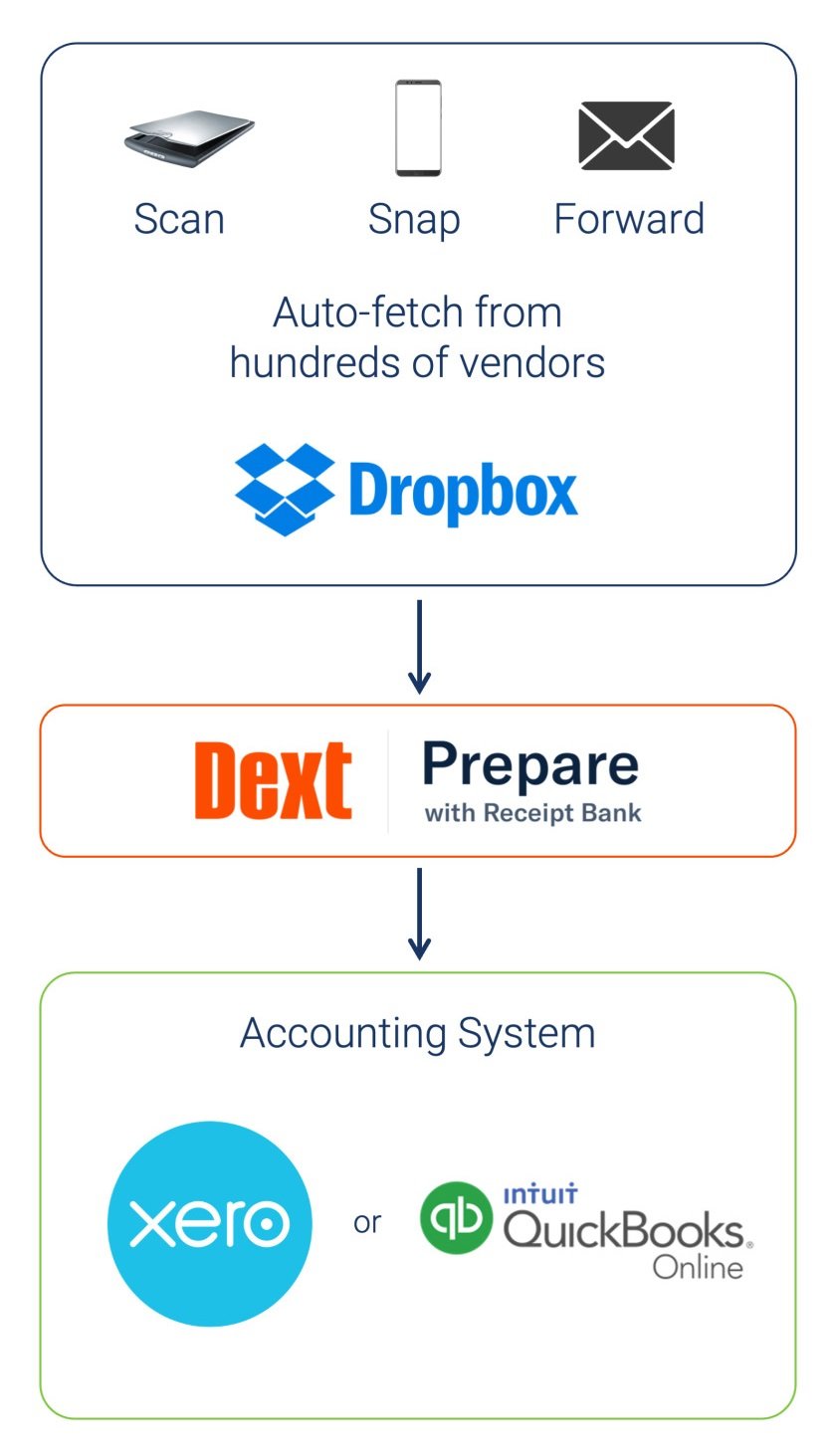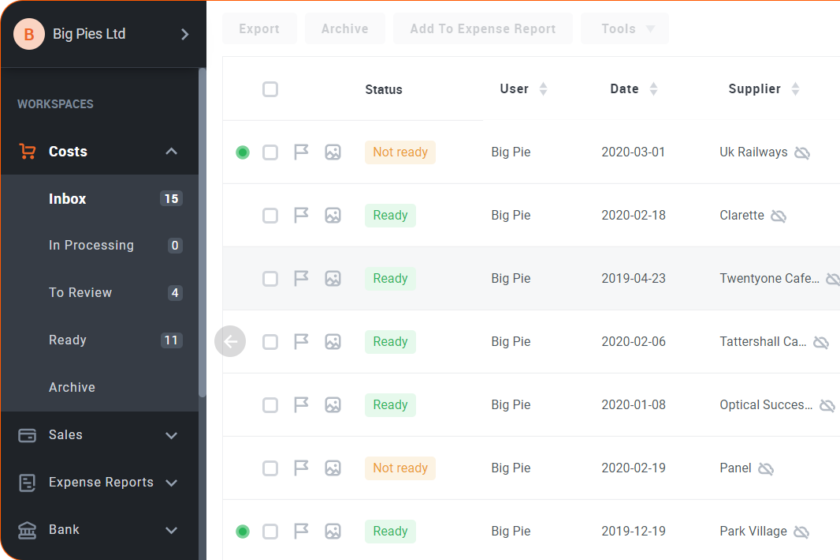 What is Dext and Why Do We Need It?
Dext, a cloud document collection and management system, acts as the central gathering place for all your documents. Any vendor account you have that provides you with a receipt or statement and that also gives you the ability to login with a username and password gets added to Dext. These would be accounts like your bank, PayPal, Dropbox, Google Drive, Google AdWords, Facebook ads, MailChimp, utilities, mobile phone, internet, municipal taxes etc. If the vendor is not one of the over 700 integrated vendors then you can setup a rule to forward the invoices via email or manually scan them with the mobile app.

Dext retrieves and identifies your receipts, invoices or statements and allows you (or us) to tag them for additional organization. It uses software to extract the key information like the name of the vendor, the date of purchase and the amount. It's remarkably clever and accurate.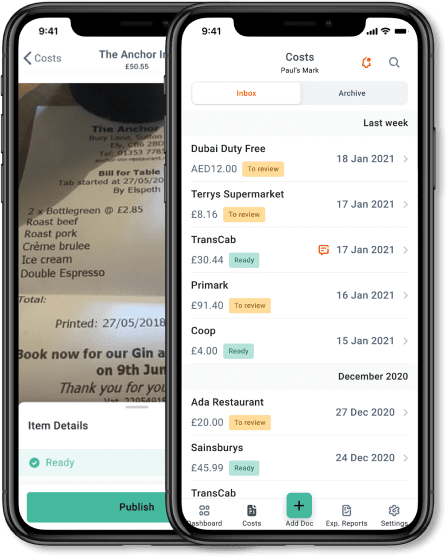 Bank & Credit Card Feeds
Dext is also able to log into your bank account and download feeds of your bank and credit card transactions. This enables it to show a match when it finds matching transactions which speeds up processing.
Mobile Scanning Of Paper Receipts
For paper receipts, Dext provides a mobile app that lets you take a picture of the receipt which uploads to the cloud and is scanned using Optical Character Recognition (OCR). The key information is extracted and appended to the photo so that it can be exported to another system, like Xero.

The Dext app has the benefit of allowing you to see and categorize your documents from your mobile.
Secure Integration With Your Accounting System
Dext is integrated into the leading cloud accounting systems, QuickBooks Online and Xero. This means it sends the transaction level data over to the accounting system, and instead of having to type it all in, the bookkeeper just has to check it. If there are ever any questions, the bookkeeper can easily refer to an image of the original receipt.
What Would We Do Without Dext?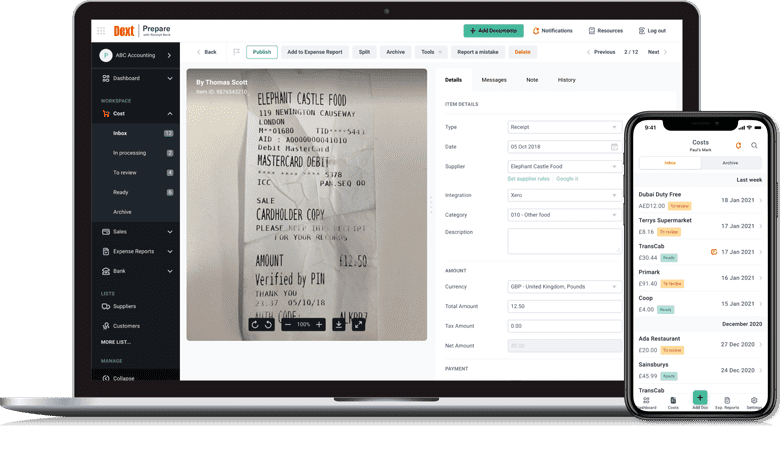 Without Dext, you (or we) would have to log in to your different vendor accounts every month and download a PDF statement or invoice or we would work off paper invoices which we'd have to wait for (and which sometimes get lost by busy business owners).
We would then have to manually enter the data into the accounting system which is time consuming and more prone to errors.
The manual process is inefficient and generally leads to the bookkeeper having incomplete records to work with when they come to process your books each month which results in delayed or inaccurate reporting.

What is Xero and Why Do We Need It?
Xero is the accounting system. It takes in all the raw data and, with guidance and oversight from our bookkeepers, organizes the transactions into journal entries and categorizes them so that you can get insightful reports about your business and so that your accountant can easily prepare your corporate tax filing at year end.
Xero also has built-in tools for doing bank and credit card statement reconciliation that make the process much faster and more efficient than other systems. Xero pulls in a live data feed of transactions from your bank and then matches those up with documents from Hubdoc. Your bookkeeper checks everything and makes adjustments as needed.
Bookkeepers love Xero because it has a particularly clever approach to learning from past categorizations of expenses and then automatically applying them on future ones.
Xero then provides the business owner with all the key financial statements: Income Statement or Profit & Loss, Balance Sheet, Cash Flow etc. It calculates your interim sales taxes owing for interim payments.
Xero can do everything conventional accounting systems like SAGE and ACCPac can do and it has all the benefits that come with cloud-based software:
The bank and Dext/HubDoc integrations means you have very close to real time transactional data.

You, the client, can access your accounting system at any time and can pull the reports you need for more accurate and timely decision making.

You always have the latest version of the software which means you get new features faster.

You never have to go through a complicated software upgrade.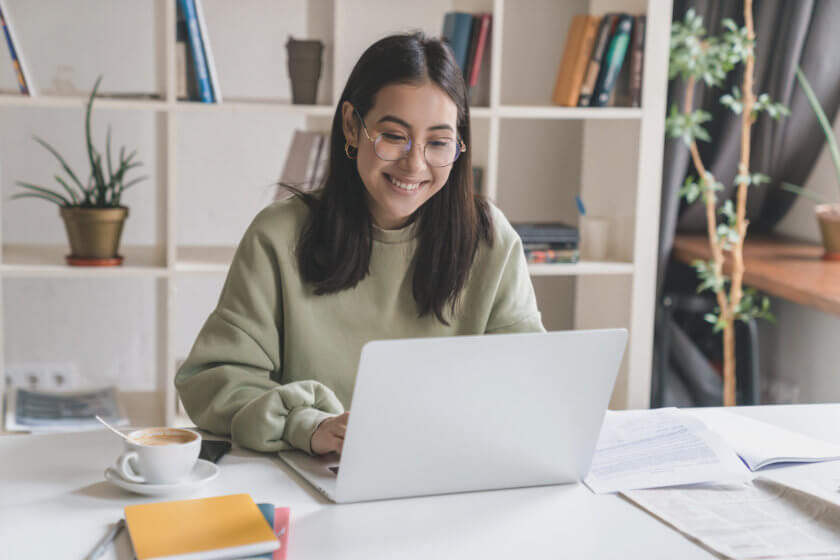 Fill out the form below to book a call with us for a no-obligation chat about your bookkeeping needs.
What Are The Specific Steps Each Of Us Does During Setup?
Back Office Stars
If you have no systems or are moving to Dext & Xero (or QBO), we will provision the Xero (or QBO) and Dext accounts for you and invite you as a user.
If we are setting up a new accounting file then we'll create your Chart Of Accounts and customize it for your needs. We will help you set up your templates for invoicing, estimates, POs and emails as well as help you customize key reports like your Profit & Loss Statement and Balance Sheet.
We will show you how to add your vendor accounts to Dext so it can retrieve invoices from your vendors.
We will integrate Dext with Xero or QBO.
If we are setting up payroll for you we'll need your payroll information and then we'll set you up in the best cloud-based payroll system for your needs. We tend to prefer Wagepoint.
If you are starting to use online time tracking or a new POS system, we can help you get that set up and integrated as well.
You
If we are using your existing systems then you will add your Back Office Stars bookkeeper as a user.
You will need to add all your vendor accounts to Dext so that you retain control over all your login passwords and can resolve any issues Dext has connecting to your accounts when you change passwords.
We will show you how to setup the bank feeds into Xero. It requires you to authenticate with your internet banking credentials.
We will show you how to setup email forwarding rules to automatically forward invoices that come by email.
We will show you how to get and use the Dext mobile app to scan all your paper receipts immediately upon receipt.
We also need you to provide us all the relevant information we ask for in the Client Startup List.